Bob Ambrogi, co-host of Lawyer2Lawyer and longtime legal technologist, travels to  LegalTechNY and explains why it is one of the pre-eminent legal technology shows. This year's emphasis is on e-discovery, case management and cloud computing.  Bob also tells us why he's looking forward to seeing all the new and exciting tech products targeting the legal community. Be sure to watch the interview, hosted by Legal Talk Network producer, Kate Kenney.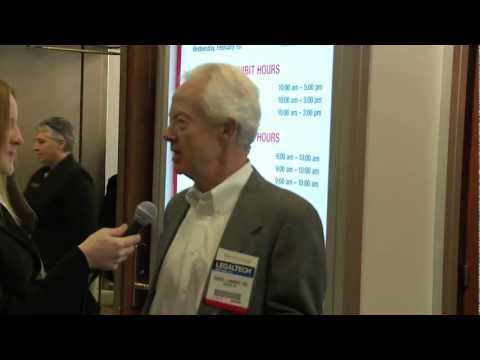 In this January edition of Law Technology Now, host Monica Bay welcomes Cecil Lynn III , e-discovery counsel at Littler and Judy Kelly, senior producer for LegalTech and Virtual LegalTech. First, we hear from Cecil about the most important e-discovery cases of 2010, and his article that will appear in the inaugural issue of ALM's redesigned Law Technology News magazine. Then it's a sneak preview of  LegalTech New York as Judy describes the show's exciting keynotes and panels. We also welcome our new sponsor, LexisNexis!
Special thanks to our sponsor, Firm Manager.

Podcast: Play in new window | Download (Duration: 19:00 — 15.4MB)
It's been three years now since the electronic data discovery rules were added to the Federal Rules of Civil Procedure, and the number of reported cases involving electronically stored information has skyrocketed. But some lawyers still "simply do not anticipate ESI issues."  On this edition of Law Technology Now, host  Monica Bay chats with Cecil Lynn of counsel to Ryley Carlock and Applewhite, to discuss key 2009 rulings and why most of them are reiterating established principles. Later in the program, Monica is joined by Henry Dicker, vice president of ALM Events and executive director of LegalTech, to talk about the upcoming LegalTech NY 2010.
Podcast: Play in new window | Download (Duration: 21:18 — 17.6MB)
Many in our legal community are coping with layoffs and firm/company restructuring. In this edition of Law Technology Now, host Monica Bay welcomes Babs Deacon, director of consulting and data analytics with Integreon and Mark Reichenbach, vice president for client and industry development, Capital Legal Solutions, to talk about their experiences this winter finding new jobs.  Later in the program, Monica is joined by Chris Braun, director of online recruitment for the North American division of Incisive Media (lawjobs.com), and Seth Chavez, marketing coordinator for the Los Angeles County Bar Association, to discuss the "Greening Your Career" networking breakfast at Legal Tech WestCoast.
Podcast: Play in new window | Download (Duration: 22:04 — 18.8MB)
Bob Ambrogi takes a walk through Legal Tech NY and finds ten outstanding technologies… check them out here.
Want to know what's hot in technology from LegalTech NY 2009? Join Law.com hosts J. Craig Williams and Bob Ambrogi , as Bob reports from Legal Tech NY 2009. Bob will walk the floors of LegalTech NY, check out the latest in technology and fill us in on the stand-out tech stars!
You can also check out our video of the Ten Tech Stars and see these great products for yourself! Video Player
Podcast: Play in new window | Download (25.4MB)
Join Law Technology Now host and Editor-in-Chief of Law Technology News, Monica Bay, with six experts, who presented at LegalTech West Coast 2008, as part of the "FutureTech" track. The panel featured six industry leaders who each looked forward to the changing world of our legal technology community. From e-discovery to leadership, each expert shared his or her vision of what's in our FutureTech and now you can listen to each in six separate podcasts sponsored by BlueArc right here!
J. Craig Williams, Partner, The Williams Lindberg Law Firm: Litigation — How technology is leveling the proverbial playing field, allowing smaller firms to compete with the biggest.  MP3
Doug Caddell, CIO, Foley & Lardner: "Second generation" technology and people — changing expectations as the generations shift, and the tools become more sophisticated. MP3
Judith Flournoy, CIO, Loeb & Loeb: IT leadership — What will be the hallmarks of effective IT leaders as we move forward. MP3
Peter Hsiao, Head, Land Use & Environmental Law Group, Morrison & Foerster: CleanTech — Firms are beginning to embrace "green" practices and strategies that will help us all better serve our clients and our communities. MP3
Tom Baldwin, Chief Knowledge Officer, Reed Smith: Social networking — How client relationship management and social networking tools will change the way we practice law. MP3
Craig Ball: Consultant/Attorney: "Crystal Ball" — Where is electronic data discovery headed and what will be key issues  MP3

Want insider information on what really happened at LegalTech New York? On this Lawyer2Lawyer, Bob Ambrogi reports in with the latest in legal tech straight from the show floor. Join Bob and J. Craig Williams as they discuss the highlights from the world's leading legal tech trade show. Plus you'll hear interviews with many of the key players in legal technology!
Interviews Featured in this Podcast
Henry Dicker, Executive Director of LegalTech; John Shaughnessy, Senior Director, Corporate Communications, Thomson North American Legal; Jill Windwer, Vice President, Law.com; Gayle O'Connor, Solutions Marketing Manager, Anacomp; Buddy Acchione, Director of Sales, Nexidia; Joseph Scott, Vice President & General Manager, CompuLaw; Chris Korson, Chief Technology Officer, US Common Law; Tyler Walz, Wals Postal Solutions, Walz Group; Cynthia Howard, Product Manager, Corel; Robert Childress, President, Wave Software; Richard Greenspan, Product Manager, MA3000; John Shin, Product Manager, Courtroom Live; Ross Kodner, President, MicroLaw; Robert Saccone, President & CEO, XMLaw; Debra Weaver, Vice President, Marketing & Sales, Trialnet; John Gilbert, Vice President, Sales & Marketing, nQueue; Lindsay Couch, Executive Director, The Masters Conference; Steven Stewart, Director, Electronic Discovery Services, RVM inc.
Podcast: Play in new window | Download (25.8MB)
If you're not at the hotspot in legal technology, LegalTech New York, then you need to check out this week's show! Law.com blogger and host, J. Craig Williams, welcomes legal technology guru, Monica Bay, editor-in-chief of Law Technology News and host of "Law Technology Now," to discuss what's new in legal tech and explore the ins and outs of the world's leading legal technology trade show! Host, Bob Ambrogi, will also give you a preview of his upcoming special report featuring interviews with the experts, straight from the floor of LegalTech!
Podcast: Play in new window | Download (18.0MB)
Law Technology News' editor Monica Bay and LTN's award winning e-discovery columnist, Craig Ball, discuss this year's key trends in litigation, live from the 27th Annual LegalTech New York. They'll discuss the challenges that face law firms and law departments as they deal with new federal EDD rules; demands for cost containment from their clients; and the perils of international disputes. And special guest Henry Dicker, Managing Director of LegalTech, will brainstorm with Monica and Craig about how attendees can avoid getting overwhelmed — and take full advantage of the educational programs and vendor demonstrations during LegalTech New York and Los Angeles.
Podcast: Play in new window | Download (23.4MB)