On this edition of Lawyer2Lawyer host Bob Ambrogi discusses private prisons with Susan Herman, president of the American Civil Liberties Union (ACLU), and Adrian Moore, vice president of the Reason Foundation, a non-profit in support of libertarian principles and privatization.
Susan Herman was elected president of the ACLU in October 2008. As Centennial Professor of Law at Brooklyn Law School, she teaches courses in the area of Criminal Law and Procedure and Constitutional Law. The ACLU has been studying and protesting against private prisons as a for-profit business for decades.
Dr. Adrian Moore is vice president of policy at the Reason Foundation. He has conducted studies, written publications and scholarly articles on the privatization of prisons and how they yield quality corrections at a lower cost. He has served on boards and commissions developing or overseeing privatization at the federal, state, and local level.
Tune in to hear Herman and Moore debate and discuss the colossal incarceration rate, the profit motives of private prisons, the politics behind it all, and the impact on prisoners' rights.
Special Thanks to our sponsor, Clio.
Podcast: Play in new window | Download (Duration: 33:40 — 30.8MB)
Host Monica Bay, lawyer and editor-in-chief of ALM's Law Technology News, joins Robert J. Ambrogi, lawyer, writer, and media consultant, to talk about the latest legal technology trends they've seen at the trade-show circuit this year. Co-host of Legal Talk Network's Lawyer2Lawyer podcast, Ambrogi runs a solo law firm where he represents clients in cases that cover the intersection of law, media, and technology. He is the author of LTN magazine's "Web Watch" column, and writes the LawSites and Media Law blogs.
In our April edition of Law Technology Now, Bay and Ambrogi discuss trends they've seen at LegalTech New York and the American Bar Association's Techshow, such as the rise of practice management software in the cloud, client data security, Big Data, and more.
Podcast: Play in new window | Download (Duration: 21:49 — 20.1MB)
Are you looking to start your own blog but don't know where to begin? New Solo host, Attorney Kyle R. Guelcher, a solo practitioner and the most recent Chair of the Young Lawyers Division of the Massachusetts Bar Association joins legal blogger, legal technology guru and co-host of Legal Talk Network's Lawyer2Lawyer, Attorney Bob Ambrogi, to offer tips to solos on starting your own blog. Bob talks about everything from which platform is best, to what type of information you should contribute as a blogger, to how to promote your blog and stand out from the others.
Special thanks to our sponsor, Firm Manager.
Podcast: Play in new window | Download (Duration: 27:44 — 21.5MB)
Bob Ambrogi, co-host of Lawyer2Lawyer and longtime legal technologist, travels to  LegalTechNY and explains why it is one of the pre-eminent legal technology shows. This year's emphasis is on e-discovery, case management and cloud computing.  Bob also tells us why he's looking forward to seeing all the new and exciting tech products targeting the legal community. Be sure to watch the interview, hosted by Legal Talk Network producer, Kate Kenney.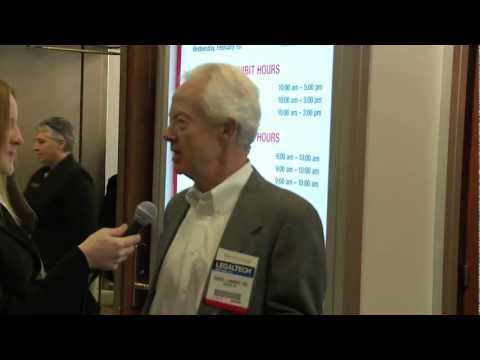 Over the last few years, legal technology has become a field, even a career for some. You will often hear the term "legal technologist" used to describe those in this field. How does someone get started in legal technology and what does it take to be considered a legal technologist? In this episode, Dennis Kennedy and Tom Mighell discuss the history of legal technologists, how to get started in the field, and what they wish they would have known when they started out. After you listen, be sure to check out Tom & Dennis' co-blog and book by the same name, The Lawyers Guide to Collaboration Tools and Technologies.
Special thanks to our sponsors, Clio, and Firm Manager.
Podcast: Play in new window | Download (Duration: 36:58 — 34.3MB)
In this September edition of Law Technology Now, host Monica Bay chats with Law Technology News' Web Watch columnist and co-host of Lawyer2Lawyer, Bob Ambrogi. Bob says legal blogs have matured in the last few years — and now provide rich, nuanced content that genuinely helps practitioners. Bob talks about why legal blogs are thriving and spotlights new sites that cover everything from fashion law to the Library of Congress.
Podcast: Play in new window | Download (Duration: 21:43 — 18.9MB)
On Law Technology Now, host Monica Bay welcomes Bob Ambrogi, author of Law Technology News' Web Watch column and Jim Calloway, director of the Oklahoma Bar Association's Management Assistance Program, to discuss the latest web-based search tools, including the recent launch of Microsoft's "Bing." Bob and Monica will give you a sneak preview of the September 21st Social Media: Risks & Rewards program and will help your organization exploit the best from social media tools, while protecting your intellectual property, reputation and employees.
Podcast: Play in new window | Download (Duration: 21:19 — 15.5MB)