This year's ABA Legal Technology Survey Report found a slight (from seven to five percent) decline in virtual lawyering. This spurred the discussion of: What, exactly, is virtual lawyering? What is the growth potential in this type of practice? and, Is it a viable business model for lawyers? On this episode of The Digital Edge, co-hosts Sharon D. Nelson, Esq. and Jim Calloway chat with Bob Ambrogi about the survey results, virtual and online lawyering, and how although clients may be ready for these e-services, lawyers may not be.
Podcast: Play in new window | Download (Duration: 27:36 — 25.3MB)
If it's not legally a human, it's a thing. But animal rights advocates argue these alternatives fail to recognize that there are many cognitively complex species who deserve to be treated as people. The Nonhuman Rights Project is planning to file a writ of habeas corpus on behalf of a chimp to grant her the right to bodily liberty. This will release her from the cage she is currently living in, and the project will have her admitted into a cageless sanctuary. Steven M. Wise, president of The Nonhuman Rights Project, has been researching and planning this case for 20 years.
Steven M. Wise has been practicing animal protection law nationwide for for the past 30 years. He was the first professor to teach animal law at Harvard University and is still teaching animal law courses all over the world. He has published four books on the matter, including Rattling the Cage – Toward Legal Rights for Animals.
On this edition of Lawyer2Lawyer, hosts Bob Ambrogi and J. Craig Williams will talk with Wise about the case to grant a chimp the right to bodily liberty and The Nonhuman Rights Project's long-term plans for animal rights
Special thanks to our sponsor, Clio.
Podcast: Play in new window | Download (Duration: 28:45 — 26.3MB)
Personal Audio's founder Jim Logan created and patented an idea which, in his eyes, covers the concept of podcasting. "This is the story of the American inventor," Richard Baker, Personal Audio's vice president of licensing, says. Personal Audio has filed lawsuits against several podcasters and media companies, claiming patent infringement by popular programs such as NBC's The Adam Carolla Show and by CBS for its podcast distribution of multiple shows including The Voice and Meet the Press. On the other side, The Electronic Frontier Foundation (EFF) has spearheaded a campaign dubbed "Save Podcasting!" to rescind Personal Audio's patent. EFF's goal is to revoke Personal Audio's right to compensation from any podcast program. Daniel Nazer, a staff attorney working on the campaign, represents EFF on the program.
Podcast: Play in new window | Download (Duration: 32:51 — 30.1MB)
On this episode of Lawyer2Lawyer, Bob Ambrogi and J. Craig Williams invite California Judge James Mize to discuss his first-of-its-kind idea to address the heavy congestion of divorce cases in Sacramento's family court: The One-Day Divorce Program. This allows couples, who meet the specified requirements, to participate in an expedited divorce process that finalizes the separation in just one day. This program aims to serve couples who can't afford a divorce lawyer. According to Judge Mize, 72% of family law litigants in California don't have representation.
Judge Mize began his career with an undergraduate degree in psychology, followed by graduate work at the School of Social Welfare where he earned his Master of Social Work (MSW). He found his work in social issues to be a defining part of his 26 years working as an attorney, and his current work on the bench. He has served as the presiding judge of the Sacramento Superior Court and is currently the supervising judge of Sacramento's Family Court. Judge Mize is best known for his civil reform efforts which have garnered him several honors including the California Judge Association's Alba Witkin Humanitarian Award and Sacramento County Bar Association's Judge of the Year Award.
Tune in to hear about the inner workings of the new one-day divorce program, who qualifies, how it's run, and more.
Special Thanks to our sponsor, Clio.
Podcast: Play in new window | Download (Duration: 27:32 — 25.2MB)
On this edition of Lawyer2Lawyer host Bob Ambrogi discusses private prisons with Susan Herman, president of the American Civil Liberties Union (ACLU), and Adrian Moore, vice president of the Reason Foundation, a non-profit in support of libertarian principles and privatization.
Susan Herman was elected president of the ACLU in October 2008. As Centennial Professor of Law at Brooklyn Law School, she teaches courses in the area of Criminal Law and Procedure and Constitutional Law. The ACLU has been studying and protesting against private prisons as a for-profit business for decades.
Dr. Adrian Moore is vice president of policy at the Reason Foundation. He has conducted studies, written publications and scholarly articles on the privatization of prisons and how they yield quality corrections at a lower cost. He has served on boards and commissions developing or overseeing privatization at the federal, state, and local level.
Tune in to hear Herman and Moore debate and discuss the colossal incarceration rate, the profit motives of private prisons, the politics behind it all, and the impact on prisoners' rights.
Special Thanks to our sponsor, Clio.
Podcast: Play in new window | Download (Duration: 33:40 — 30.8MB)
Host Monica Bay, lawyer and editor-in-chief of ALM's Law Technology News, joins Robert J. Ambrogi, lawyer, writer, and media consultant, to talk about the latest legal technology trends they've seen at the trade-show circuit this year. Co-host of Legal Talk Network's Lawyer2Lawyer podcast, Ambrogi runs a solo law firm where he represents clients in cases that cover the intersection of law, media, and technology. He is the author of LTN magazine's "Web Watch" column, and writes the LawSites and Media Law blogs.
In our April edition of Law Technology Now, Bay and Ambrogi discuss trends they've seen at LegalTech New York and the American Bar Association's Techshow, such as the rise of practice management software in the cloud, client data security, Big Data, and more.
Podcast: Play in new window | Download (Duration: 21:49 — 20.1MB)
Are you looking to start your own blog but don't know where to begin? New Solo host, Attorney Kyle R. Guelcher, a solo practitioner and the most recent Chair of the Young Lawyers Division of the Massachusetts Bar Association joins legal blogger, legal technology guru and co-host of Legal Talk Network's Lawyer2Lawyer, Attorney Bob Ambrogi, to offer tips to solos on starting your own blog. Bob talks about everything from which platform is best, to what type of information you should contribute as a blogger, to how to promote your blog and stand out from the others.
Special thanks to our sponsor, Firm Manager.
Podcast: Play in new window | Download (Duration: 27:44 — 21.5MB)
Bob Ambrogi, co-host of Lawyer2Lawyer and longtime legal technologist, travels to  LegalTechNY and explains why it is one of the pre-eminent legal technology shows. This year's emphasis is on e-discovery, case management and cloud computing.  Bob also tells us why he's looking forward to seeing all the new and exciting tech products targeting the legal community. Be sure to watch the interview, hosted by Legal Talk Network producer, Kate Kenney.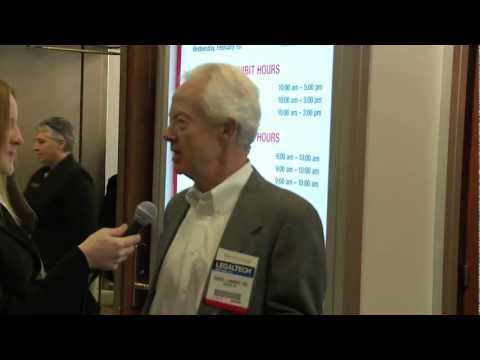 Over the last few years, legal technology has become a field, even a career for some. You will often hear the term "legal technologist" used to describe those in this field. How does someone get started in legal technology and what does it take to be considered a legal technologist? In this episode, Dennis Kennedy and Tom Mighell discuss the history of legal technologists, how to get started in the field, and what they wish they would have known when they started out. After you listen, be sure to check out Tom & Dennis' co-blog and book by the same name, The Lawyers Guide to Collaboration Tools and Technologies.
Special thanks to our sponsors, Clio, and Firm Manager.
Podcast: Play in new window | Download (Duration: 36:58 — 34.3MB)
In this September edition of Law Technology Now, host Monica Bay chats with Law Technology News' Web Watch columnist and co-host of Lawyer2Lawyer, Bob Ambrogi. Bob says legal blogs have matured in the last few years — and now provide rich, nuanced content that genuinely helps practitioners. Bob talks about why legal blogs are thriving and spotlights new sites that cover everything from fashion law to the Library of Congress.
Podcast: Play in new window | Download (Duration: 21:43 — 18.9MB)